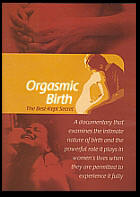 See film preview
This documentary dismantles untruths about labour and birth that women have been told for generations,
capturing stunning moments of women riding waves of pleasure in the ecstatic release of childbirth
and imparting the perspective that labour and birth is something to enjoy rather than endure.
"The same pleasurable stimuli triggered during sex, can also be released during birth", notes Pascali-Bonaro.
"It's a matter of freeing your mind and educating your emotions."
£24.99
Postage and packaging only 20% of order total...shipped anywhere
PayPal will automatically convert other currencies.
The Orgasmic Birth DVD is 'PAL' and for sale to customers in (UK) England, Ireland, Scotland, Wales & Northern Ireland.
For sales anywhere else in the world please see www.orgasmicbirth.com
NEWS FLASH
ORGASMIC BIRTH, THE BOOK, IS OUT
ORGASMIC BIRTH: Your Guide to a Safe, Satisfying, and Pleasurable Birth Experience"
by Debra Pascali-Bonaro and Elizabeth Davis