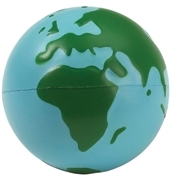 Fathers Make a World of Difference (phrase imprinted on ball)
Mothers have had birth balls for decades and now fathers get one too.
This one is also known as a stress-release ball. It fits in the palm of the hand and when repeatedly squeezed it will burn adrenaline, reduce stress and produce a more relaxed state.
This is very valuable when it comes to a father's contribution to the time of pregnancy and especially birth. If dad is relaxed it will contribute to his pregnant partner's calm.
As you will learn from my book and/or your birth preparation classes oxytocin is a necessary and even crucial hormone for a successful labour. Adrenaline will affect a mother's production of oxytocin even if it is present in others in the labouring mother's environment. Oxytocin will also help with pain relief, naturally. "Fathers Make a World of Difference", burn-off your adrenaline and support your partner's production of oxytocin.